Marriage has evolved.  Hard data backs it up.  Arranged marriages still take place in the U.S. and as an immigrant country the global state of marriage factors in.  That said, American matrimony has changed.  Marriage has become a polarizing topic as gays and straights battle each other for the right to say "I do."  And everyone is asking what is the state of our unions?"
The marriage shift was certainly felt during the past Thanksgiving holiday when fractured families were forced to negotiate holiday arrangements.  Nearly one in
three American children is living with a parent who is divorced, separated or never-married.  Hollywood has made light of the challenges of blended families in films like "Four Christmases" and "The Santa Claus." The media has sparkled its lights on celebrities who have made marriage optional for child-rearing. 
 See Marie Claire magazines take on the State of Marriage.
A recent study by the Pew Charitable Trust and Time magazine revealed some startling truths.  About 29 percent of children under 18 now live with a parent or parents who are unwed or no longer married, five times the number in 1960.  Broken down further, about 15 percent have parents who are divorced or separated and 14 percent who were never married. Within those two groups, a sizable chunk — 6 percent — have parents who are live-in couples who opted to raise kids together without getting married.
About 39 percent of Americans say marriage was becoming obsolete. And that sentiment follows U.S. census data released in September that showed marriages hit an all-time low of 52 percent for adults 18 and over.  The average age that people are getting married in the U. S. has increased markedly since 1970.  The median age for men is 28 and for women 26.  And the US is on the end of a trend.  Marriage occurs even later in Canada at 34 for men and 33 for women.  In Europe the numbers average about 37 for men and 29 for women.
"Virtually no other nation in the West compares with the U.S. when it comes to divorce, short-term co-habitation and single parenthood. Americans marry and co-habit at younger ages, divorce more quickly and enter into second marriages or co-habiting unions faster than their counterparts elsewhere. In other words, Americans step on and off the carousel of intimate relationships."
Even with these statistics marriage is still a popular must do.  A great deal of social validation comes from finding someone who will commit to forever with you, and there is much stigma for women if there is no walk down the aisle in her future.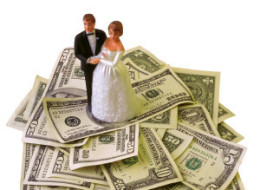 Not every group is down on marriage.  Affluent, well-educated Americans are enjoying increasingly stable, strong marriages, even as marital happiness is plummeting and the chances of divorce are rising among middle Americans. Something to think about from the findings in a recently released study; "When Marriage Disappears," released by the National Marriage Project at the University of Virginia and New York's Center for Marriage and Families at the Institute for American Values.
The two organizations put together an annual report entitled "The State Of Our Unions," which  monitors the health of "marriage and family life" in the U.S., with a focus on determining the ways "children, race, class, immigration, ethnicity, religion and poverty" shape marriage today. Middle Americans, whom the study defines as the 58 percent of the adult population with high school, but not college degrees, are more likely to divorce now than they once were. By contrast, highly educated Americans (those holding a bachelor's degree or higher) are less likely to divorce than before.  When it comes to marital satisfaction, 57 percent of middle Americans reported they were 'very happy' in their marriages, down from 68 percent in the 1970s. The highly-educated remained just as satisfied with their marriages as they had been previously–69 percent consider themselves to be happily married.
For the segment of the population who believe "Marriage Has Not Worked Out For Most People They Know;" 43 percent of moderately-educated and 53 percent of the least-educated people believed this to be true, while only 17 percent of highly-educated people think so.
The data sparked the conclusion that "the United States is devolving into a separate-and-unequal family regime, where the highly educated and the affluent enjoy strong and stable households and everyone else is consigned to increasingly unstable, unhappy, and unworkable ones."
Our society believes that if marriage is at risk, so, too, is the very foundation of our society: "Marriage is a core social institution, one that helps to ensure the economic, social and emotional welfare of countless children, women, and men in this nation."  Given that world view what impact will the Great Recession have on our most sacred institution?
 The Depression changed the family in dramatic ways. Many couples delayed marriage – the divorce rate dropped sharply (it was too expensive to pay the legal fees and support two households); and birth rates dropped below the replacement level for the first time in American history.
Still, the study indicates that marriage isn't going to disappear anytime soon. Despite a growing view that marriage may not be necessary, 67 percent of Americans were upbeat about the future of marriage and family. That's higher than their optimism for the nation's educational system (50 percent), economy (46 percent) or its morals and ethics (41 percent).